Play: The Haunted Life
Venue: Merrimack Repertory Theatre
Writer: Sean Daniels
Director: Sean Daniels and christopher oscar peña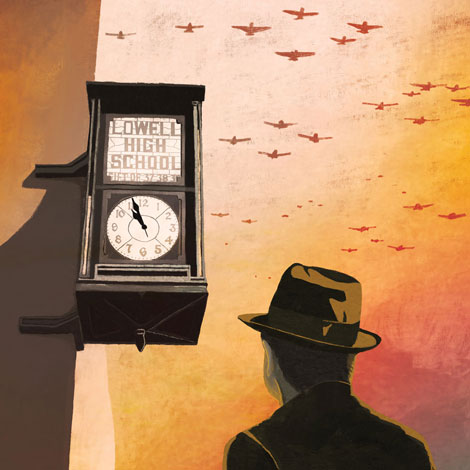 Susan and I enjoyed a night out at the theater last night thanks to tickets I won from WERS.  We saw a new play called The Haunted Life at the Merrimack Repertory Theatre in Lowell, MA which is based on a novel written by Lowell's own Jack Kerouac.  Kerouac's wrote the novel in 1944 but it wasn't published until 2014, and it contains a lot of autobiographical details about Kerouac's life.
The play focuses on 19-year-old the Holden Caulfield-esque character Peter Martin (Raviv Ullman), and begins in the summer of 1941 when he is home for the summer after his freshman year at Boston College.  One of Peter's friends tries to encourage him to join the Army in order to find adventure, while another friend, Garabed (both played by Vichet Chum), keeps Peter up all night arguing about poetry.  Peter also enjoys picnics with his girlfriend Eleanor (Caroline Neff). At home, Peter's father Joe (Joel Colonder) – himself a French Canadian immigrant – rages about the new immigrants destroying America.  Peter's mother Vivienne (Tina Fabrique) worries about her older son who ran away to join the merchant marine a decade earlier and of whom Peter hardly remembers anything.
After fighting with his father over his racism, Peter also runs away to the merchant marine. When the US enters World War II, Peter leaves the merchant marine and tries to set himself up as poet in Manhattan, but is unable to make himself write anything. In of the most biting lines of dialogue, he tells Eleanor that he's an "inactive poet," to which she responds "an inactive poet is not a poet."  Losing friends and family to the war, Peter shuts out everyone else in his life, and wallows in brooding despair.  Surprisingly, it is reconciling with his father that helps Peter to engage with the world again and decide what is important to do with his life.
The play is performed on a simple stage with few props against a backdrop of many windows fitted together.  The performers frequently deliver monologues that comment on Peter's feelings and actions, that can be poetic or pretentious depending on your perspective.
Vichet Chum is probably the strongest actor in the show and displays his versatility in playing multiple characters.  Caroline Neff has a relatively small part, but also puts in a great performance, and also was the only actor who didn't seem to be rushing her lines.  I was delighted to find out that Tina Fabrique provided the vocals for the original Reading Rainbow theme song, although I'm sure does not want to be pigeonholed just for that.  Fabrique may have the smallest part in the play but gives a depth and warmth to what could've been a stereotypical "mother" role.  I appreciate the casting of actors that encapsulate the modern-day diversity of Lowell that adds to the sense that the issues debated in a play set almost 80 years ago are still the same issues of today.
The Haunted Life continues performances through April 14, so if you have the opportunity, get yourself to Lowell and see it!