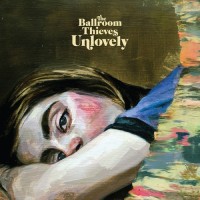 Album: Unlovely
Artist: The Ballroom Thieves 
Release Date: February 12, 2020
Label: Nettwerk Records
Favorite Tracks:
Unlovely
Tenebrist
Homme Run
Begin Again
Pendulum
Thoughts:
I first learned of Boston-based trio The Ballroom Thieves a few years ago when they were the standout performers at a festival I attended.  Their new album speaks to our times with lyrics that address personal relationship and social movements, and often both at the same time.  The band is described as folk rock and Americana, but I don't think those genres quite capture the infectious pop sound of the songs that also draw upon classic rock, soul, and even a touch of metal.
Calin "Callie" Peters (vocals, cello, bass), Martin Earley (vocals, guitar), and Devin Mauch (vocals, percussion) are all excellent instrumentalists and the recording captures their performances as well as their tight harmonies.  I tend to get lost in music at the expense of the lyrics, but I was drawn into the chorus of my favorite track "Tenebrist" which is both inspirational and sarcastic:
We all muddy the water
To make it seem less shallow
And if our grief grows like a shadow
In the morning that's alright
We need the dark to know the light
The music hides anger, frustration, and exhaustion with our political present in the lyrics, so it's worth a deep listen.
Rating: ****
This performance from WGBH leads off with "Tenebrist" and some older tracks.
The Paste Studio performance includes "Homme Run," "Love is Easy," and "Pendulum."