Author: Jeffrey Haas
Title: The Assassination of Fred Hampton: How the FBI and the Chicago Police Murdered a Black Panther
Publication Info: Chicago, Ill. : Lawrence Hill Books/Chicago Review Press, c2010.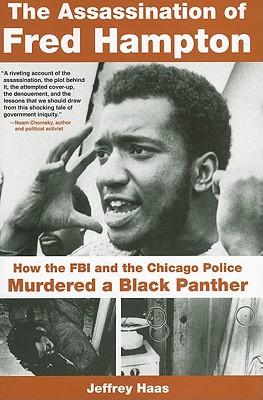 Summary/Review:
I learned about Fred Hampton around 25 years ago when watching the civil rights documentary Eyes on the Prize.  The more I learn about Hampton, who by the age of 21 had made considerable ground in uniting people of various racial backgrounds around shared causes, the more I believe that the United States lost the potential of his leadership when he was murdered by the Chicago police on December 4, 1969.
This book is the only one I could find available about Fred Hampton.  It's written by Jeffery Haas, an acquaintance of Hampton's who served as a lawyer for the People Law's Office, an organization that offered legal representation for the Chicago Black Panthers and other clients who had their civil rights violated by the government.  At first I was put off at how much Haas centers himself in the narrative, but soon learned that this is less of a biography of Hampton and more of an accounting of Haas and his colleagues efforts to find justice for the survivors of the police raid that did not reach fruition until a civil rights trial in 1982.
Haas details the gruesome conspiracy of the FBI, through their COINTELPRO program, to have the Chicago police raid Hampton's apartment in the early morning hours and carry out a summary execution. Part of this plot involved a FBI informer who infiltrated the Chicago Black Panthers and drugged Hampton on the night of the raid. Despite ballistic evidence that the Panthers were only able to fire off one shot in exchange of dozens from the police, the police successfully characterized the raid as a "shoot-out" and the officers involved were exonerated.
Haas and his colleagues spent twelve years in litigation on civil rights suits to find some justice for the surviving Black Panthers and Hampton's family.  Trials were presided over by a judge with an unhidden prejudice against the plaintiffs, and the FBI and Chicago police deliberately withholding evidence.  That any measure of justice was achieved through $1.85 million settlement in 1982 is a testament to the determination of the survivors and the People's Law Office.  Nevertheless, the clear imbalance of the government and the law towards racism and inequality makes it hard to believe in true justice in the United States.
Favorite Passages:
"Unlike the example of a centralized and hierarchical political party like the Panthers, BLM is a decentralized coalition of community groups with a common platform. They say they are "leader full," not "leader less." This has the advantage that the assassination, jailing, or silencing of one leader will not cause the devastation of an organization like the Chicago Panthers faced after the murder of Fred Hampton."

"The message of Black Power resonated with Fred Hampton.  He saw Black Power not as a tool to attack whites but as a concept to bring blacks together and build their confidence.  Fred said that "blackness was what was in your heart, not the color of your skin." But any symbol of black unity, including the modest Afro that Fred wore, threatened many whites."

"Fred talked with particular satisfaction about seeing the children eating and Panther members serving them.  He explained this was how people could understand socialism "through participation and serving the people."

"What good did it do to have lawyers and courts and a constitution and legal precedent if the police under the direct control of the prosecutor could murder you in your bed? I wasn't sure I wanted to be a lawyer fighting for justice inside an unjust system or on the outside exposing the legal system as a fraud, taking direct action against Fred's killers."

"It always pisses off victims of the police to learn that taxpayers foot the bill. 'It isn't right,' I said. 'But the police contract requires they be indemnified.  I wish we were getting money from them too. It might deter them next time.'"
Recommended books:
Rating: ****