Author: Rick Riordan
Title: The Hammer of Thor
Narrator: Kieran Culkin
Publication Info: Listening Library (2016)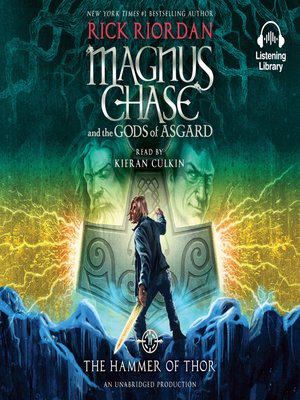 Summary/Review:
I really enjoyed The Sword of Summer, Rick Riordan's first installment of the Magnus Chase and the Gods of Asgard Series, and there is no sophomore slump in The Hammer of Thor. Magnus Chase is joined once again by the Valkyrie Samirah, the dwarf Blitzen and the elf Hearthstone.  The book also introduces a new character, a genderfluid teenager and child of Loki recently arrived to Valhalla as an einherji.  Together they are tasked with finding Thor's missing hammer Mjolnir, while Loki attempts to trick and tempt them to his
Their adventures take them to Provincetown, Hearth's unhappy home in Alfheim, a bowling alley for giants, and the bar from Cheers.  Like the predecessor the book is full of humorous mythological allusions, impossible predicaments, and a lot of Boston or Boston-ish locations.
Rating: ****