Author: Casey McQuiston
Title: One Last Stop
Narrator: Natalie Naudus
Publication Info: Macmillan Audio (2021)
Summary/Review: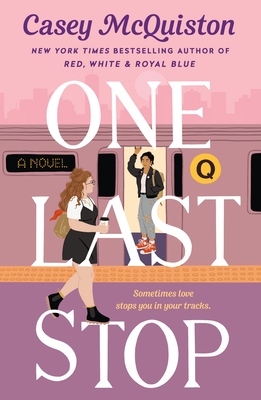 After a troubled childhood with an obsessive mother, August finds it difficult to connect with people.  Things begin to change when she moves to Brooklyn to attend college and is pushed out of her comfort zone by her eccentric housemates, Myla, Niko and Wes.  She also finds herself enraptured by a beautiful punk woman she meets on the Q train, Jane.  However, finding love and happiness is challenged by three strange things about Jane: 1. she can't seem to leave the train, 2. she can't remember her past, and 3. she hasn't aged at all from a picture taken of her in 1976.
This book is great fun as it uses a unique time slip story mixed with a queer romance and a story of New York's gentrification.  It's particular interesting to read the contrasts of Jane's experiences in the early LGBTQ+ liberation movements of the 1970s compared to the more accepting contemporary times.  There are a lot of subplots in this novel that get things a bit confused, and perhaps there's just a bit too much "deep conversation," but all is forgiven because I love the characters.  McQuiston does a great job of bringing to life a community of fun, creative, and really horny young adults in the city.
Recommended books:
Rating: ****