I started a tradition back in 1996 of making a list of the most memorable events of the year.  I always say that memorable does not mean it is necessarily positive, so don't be surprised to see negative experiences on this list.  That first list in 1996 had exactly twenty items, so I've made the list a top twenty every year since.
Here is my 26th annual list.
January
… NEW YEAR IN NEW HAMPSHIRE – We escaped cabin fever at home by kicking off the New Year in an actual cabin in New Hampshire.  We played games, there was lots of snow, and went tubing at King Pine Ski Area.
… POLITICAL UPHEAVAL – On January 6, white supremacist insurrectionists attacked the U.S. Capitol and attempted to overthrow our government.  Now if Islamic jihadists, Black Lives Matter, or Leftists did this we'd probably be still talking but for some reason it's all ho-hum now.  I guess that's white privilege at work. In better news, Joe Biden was actually inaugurated on January 20, so at least there's some hope of preserving democracy.
… BACK TO WORK – I started going to work in person one day per week in January.  I have an odd nostalgia for riding the empty subway to the empty library and taking lunch in the empty cafeteria. The kids started going back to school part time in March and full-time in May.  Then I started working onsite 2 days per week.  Finally, in August, it was back to the new normal with 4 days onsite and 1 day work from home.
March
… MOVING MOM – My mother got a new apartment in the Bronx so I spent a long weekend helping her pack and clean.
… NEW BOSTON MAYORS – President Biden appointed Boston Mayor Marty Walsh (whom I loathe) to the Department of Labor and suddenly Boston had a new mayor.  As Acting Mayor until November's election, Kim Janey became the first woman and first Black person to serve as Mayor of Boston. In the general election, my favored candidate, progressive Michelle Wu, was elected in a landslide and became the first woman and first person of color elected to the office.  As an added bonus, we got a great new progressive City Councilor for our district, Kendra Hicks.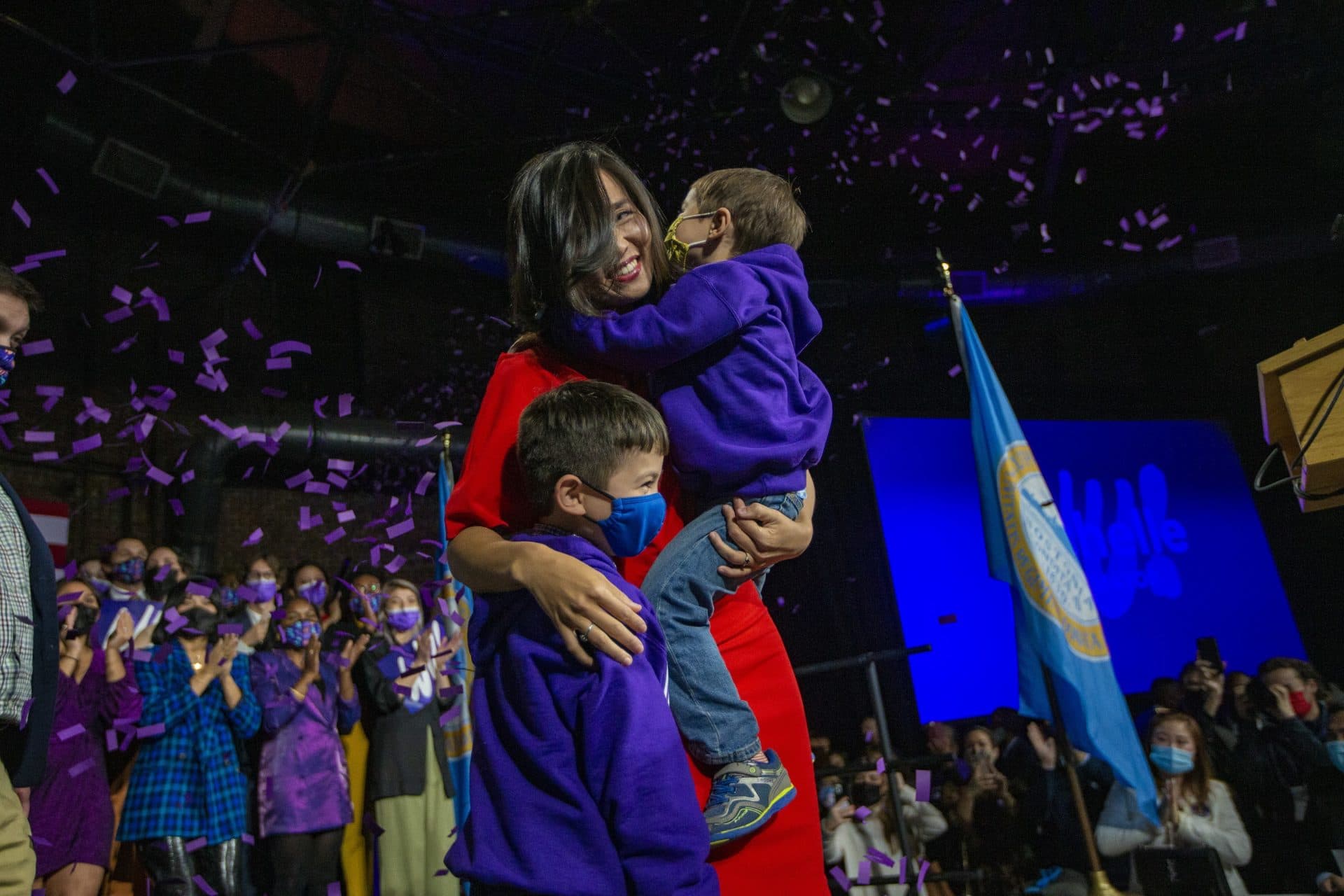 … A STROLL IN THE PUBLIC GARDEN – It had been a long time since we'd been downtown, so we actually drove down there for a nice walk through the Public Garden on a pleasant spring day just as the flowers were starting to bloom.
… NOT THROWING AWAY MY SHOT – Susan and I got our first COVID vaccine shots in April.  Peter got his shots in May and Kay was finally eligible in November.  Here's to hope for a healthful and less topsy-turvy future.
MAY
… TO THE END OF THE WORLD – We enjoyed another outing on a spring day to World's End Reservation in Hingham.
… FLYING SQUIRRELS – My daughter's youth baseball team was sponsored by the neighborhood Facebook group and named "Flying Squirrels."  They had a great season where they all got better at hitting and fielding, plus there were mid-inning sing-a-longs and costumed adults cheering them on.  She also was selected to the All-Star Game.  If that wasn't enough baseball, my son played on like three teams in the spring, summer, and fall.
JUNE
… BEFORE BOSTON – I researched and wrote a new tour for Boston By Foot that focused on Boston before 1630. It's probably the first walking tour to focus extensively on Native American peoples in Boston. We finally got to debut the tour in June after a COVID delay.
… UP THE CAPE – We spent a week at a rental cottage in Wellfleet with my Mom.  We went to beaches, took long bike rides, strolled around Provincetown, and got a seafood dinner takeout!
… RETURN TO OLD HAUNTS – In June, when it seemed like COVID might actually go away I took great delight in doing things I hadn't done in a long time like seeing a movie in a theater and drinking a beer at a pub.
JULY
… SWEET INDEPENDENCE DAY – We had a quiet 4th of July, but Kay baked us a delicious cake in patriotic colors.
AUGUST
… THE WILDS OF NEW YORK – We paid a visit to my Mom in New York and a spent a day apiece at the Bronx Zoo and the New York Aquarium, enjoying the animals.
… ¡WEPA! – There's a new ballclub in Massachusetts, the Worcester Red Sox (a.k.a. WooSox, a.k.a. Los Wepas), and we visited Polar Park for the first time, enjoying a double header against the Syracuse Mets followed by fireworks.
… UNIVERSAL – Our end of summer vacation took us to Universal Orlando for the first time, where we enjoyed the rides and attractions of Universal Studios Florida and Islands of Adventure for three days with almost no one else there.
OCTOBER
… 13th INNING WALKOFF – I expected the Red Sox to have a better season than last year, but even I was surprised by how they exceeded expectations.  We visited Fenway for a game for the first time in a long time in June, and even saw the Red Sox on the road in Tampa Bay.  But the absolute highlight was seeing their Game 3 of the ALDS win over the Rays with a dramatic walkoff home run by Christian Vazquez in the 13th inning! Sadly, the dream came to an end against the Astros in the 6th game of the ALCS.
NOVEMBER
… SUPPORTERS SHIELD – We didn't make it to Foxborough for any New England Revolution games this year but I enjoyed watching their historic season.  The Revs not only won the Supporters Shield for the best regular season record in Major League Soccer but also set a record for the most points in a MLS season.  Unfortunately, like the Red Sox, the Revs dream season came crashing down in the playoffs with a loss in a penalty shootout to NYCFC.
… THE THANKSGIVING OLYMPIC GAMES – Kay came up with a series of games for all of the family and our friend Anthony to compete in on Thanksgiving.  These include Flickin' Chicken, Head Hoop Basketball, and our own unique sport of Anthony Funball.  I won three silver medals of which I'm inordinately proud.
DECEMBER
… THE ROOM WHERE IT HAPPENS – Kay and I finally got to see a live performance of the musical Hamilton at Providence Performing Arts Center.  It was a delight!
… INTERRUPTED REVELRY – I participated as a member of the chorus in the annual Christmas Revels show at Sanders Theater in Cambridge.  Despite COVID protocols changing a lot of the traditions, the show was an absolute joy.  Unfortunately, due to the omicron outbreak, the last 6 shows were canceled, but I'm glad we got to perform ten shows, plus all of the fun and camaraderie of the rehearsals.  Also, you can still stream the virtual Revels performance until January 9th!
That's me in the green sweater on the last verse!
Previously: