Author: Devin Gordon
Title: So Many Ways to Lose
Publication Info: New York City : Harper, 2021.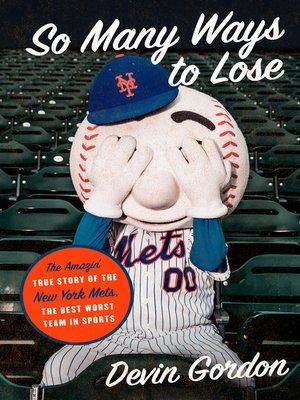 Summary/Review:
So Many Ways to Lose is a history of the New York Mets by a long-time fan and writer who happens to live near me in Massachusetts. Gordon's thesis is that the Mets are a team that is known for their futility and for losing in creative ways, and yet that has only made their moments of greatness all the more endearing.
Since I've read a lot about the Mets (and of course, spent most of my life watching the team), I was familiar with many of these stories.  But I was impressed with the angles Gordon took on telling the stories. I particularly liked:
connecting Cleon Jones story to the history of Africatown in Alabama which was founded by people brought from Africa on the last known slave ship the Clotilda
How Mackey Sasser got the yips and had trouble returning the ball to the pitcher
While Bobby Bonilla Day has become a day to mock the Mets, Gordon explains that it was a good deal with positive outcomes for the Mets
the greatness of the Endy Chavez catch
How Bernie Madoff bamboozled the Wilpons, owners of the Mets, but nonetheless a somewhat sympathetic portrait of the Wilpons
The parts on the Mets success in 2006 (and subsequent flops in 2007-2008) and 2015 feel rushed.  But then again I've read about those accomplishments in other books.  This is an enjoyable sports book and a requirement for every Mets' fan's library.
Recommended books:
Rating: ****