Having listened to every album on the Rolling Stone list of 500 Greatest Albums of All Time, I'm making my own list.  This list will be only 250 albums, although I had to make some tough cuts.  The list includes a mix of works of musical genius with the pure nostalgia of some albums I've loved throughout my life.  As always, I'd love to hear your thoughts about these albums and what your favorite albums are. I will continue the countdown every other Wednesday throughout 2022.
---
210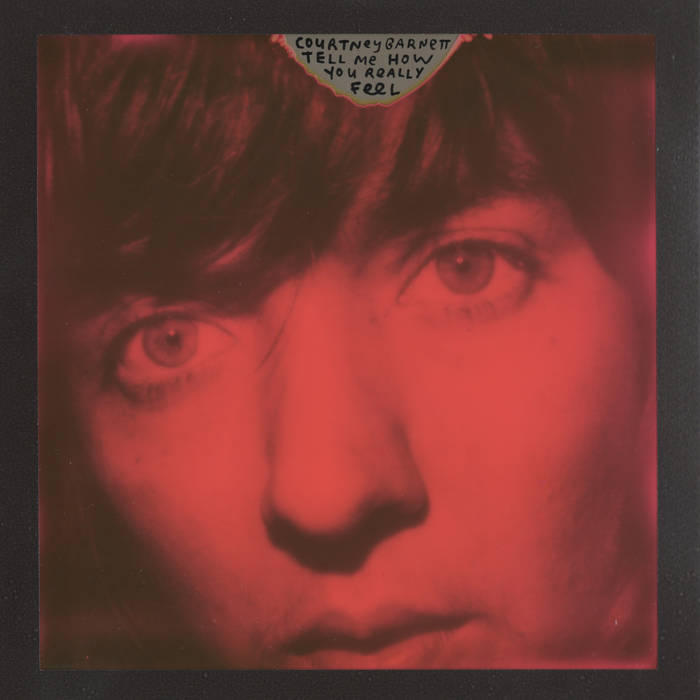 Artist: Courtney Barnett 
Title: Tell Me How You Really Feel
Year: 2018
Favorite Tracks:
Hopefulessness
Charity
Need a Little Time
Nameless, Faceless
I'm Not Your Mother, I'm Not Your Bitch
Crippling Self-Doubt and a General Lack of Confidence
The First Time I Heard This Album …: Courtney Barnett is one of my favorite new artists of the past decade so I was eager to hear this album upon its release in May 2018.
Thoughts: Australian singer/songwriter Courtney Barnett came out swinging on her sophomore album with crunching guitars, punk melodies, and introspective yet socially relevant lyrics.
Bonus Sounds: There's another Courtney Barnett album coming up on this list but here's my review of her most recent album Things Take Time, Take Time.
---
209
Artist: Midnight Oil
Title: Diesel And Dust
Year: 1987
Favorite Tracks:
Beds are Burning
Arctic World
Whoah
Bullroarer
Sell My Soul
Sometimes
The First Time I Heard This Album …: Probably not right after it was released, but definitely within a year or two.  I'm pretty sure I checked it out at the library.
Thoughts: There weren't many politically passionate leftist rock bands cracking the mainstream in the 1980s, but Australia's Midnight Oil made a big statement in 1987 with a song about Aboriginal land rights, "Beds are Burning."  This album kicks off a collection of an intelligent and powerful rock tunes that still resonate 35 years later.
Bonus Sounds: I've only scratched the surface of Midnight Oil's catalog of work and will have to spend some time exploring their other works.  One of my other favorites that just narrowly missed making my 250 Favorite Albums is 1990's Blue Sky Mining which includes the soaring anthem "One Country."
---
208
Artist: Bobby "Blue" Bland
Title: Two Steps From the Blues
Year: 1961
Favorite Tracks:
Two Steps From the Blues
Don't Cry No More
I Pity the Fool
St. James Infirmary
The First Time I Heard This Album …: Circa 2005.
Thoughts: I learned about Bobby "Blue" Bland from reading the excellent book by Elijah Wald, Escaping the Delta.  Wald's history of the Blues discouples the music from the myths and misconceptions that have grown up around it. In one point in the book, Wald notes that while white rock & roll artists insisted on modeling Blues music after the Robert Johnson paradigm, that Black audiences were instead enjoying artists like Bobby "Blue" Bland.  So I sought this album out, and boy was I not disappointed.  Bland's voice is brilliantly emotive, while his band has the tightness that comes from regular performances.
Bonus Sounds: I need to explore more of Bobby Bland's discography, but most people should be familiar with his biggest crossover hit on the pop charts, "Turn on Your Love Light," which became a standard for the Grateful Dead.
---
207
Artist: Billy Joel
Title: Songs In The Attic
Year: 1981
Favorite Tracks:
Miami 2017 (Seen the Lights Go Out on Broadway)
She's Got A Way
Say Goodbye to Hollywood
The Ballad of Billy the Kid
The First Time I Heard This Album …: Mid-1980s?
Thoughts: After achieving stardom, Billy Joel released his first album containing songs from his earlier less-successful albums.  Before The Stranger in 1977, Joel was forced to use session musicians on his recordings, whereas he felt the songs sounded better with his touring band.  He was right, and this album recorded in a variety of venues captures the live band's performances and Joel's interaction with the crowds.  The album might even convince a Billy Joel doubter a little bit about why his fan base is so devoted.
Bonus Sounds: I don't really listen to Billy Joel much these days, but I have a soft spot for him because the first album I ever owned (co-owned with my sister) was 1980's Glass Houses, kicking off a couple of decades of Billy Joel fandom.  Glass Houses almost made this list and The Stranger was also considered.
---
206
Artist: The St. Louis Jesuits
Title: A Dwelling Place 
Year: 1976
Favorite Tracks:
Blest Be The Lord
Lord of Glory
Like a Shepherd
Glory and Praise to Our God
Peace Prayer
The First Time I Heard This Album …: I didn't know of the existence of these songs as recordings until the early 2000s, but the songs themselves I've heard and sung since the early 80s.
Thoughts: Growing up going to Catholic Mass in the 70s, 80s, & 90s meant getting to sing along with some liturgical songs that really slapped! I called these songs "The Catholic Top 10," only later noticing that a lot of them had the same songwriters – Bob Duford, John Foley, Tim Manion, Roc O'Connor, and Dan Schutte.  Since they were all affiliated with the Jesuit order at the time and working at St. Louis University, they became known collectively as the St. Louis Jesuits.  Their songs were written in response to the reforms of Vatican II which required liturgical music to be in local languages instead of Latin and encourage the full participation of the faithful.  Thus the joyful folk music style, easy to sing along with and hard to forget.  These songs do have sheen of 70s cheese to them, but they still slap!
Bonus Sounds: Richard Gillard is from New Zealand, not St. Louis, and isn't a Jesuit, but he wrote one of my favorite liturgical songs, "The Servant Song."  We played this at our wedding.
---
205
Artist:  Darlene Love, The Ronettes, Bob B. Soxx & the Blue Jeans, The Crystals
Title: A Christmas Gift for You
Year: 1963
Favorite Tracks:
"Frosty the Snowman" – The Ronettes
"Sleigh Ride" – The Ronettes
"Christmas (Baby Please Come Home)" – Darlene Love
"Here Comes Santa Claus" – Bob B. Soxx & the Blue Jeans
The First Time I Heard This Album …: Technically, I've been listening to these songs every December since infancy, but only during the Rolling Stone 500 did I listen to it end to end.
Thoughts: The talent of the Philles Records recorded this compilation of favorite holiday tunes and the stunning original "Christmas (Baby Please Come Home)" in the pop/R&B style of the early 60s.  Almost 60 years later, the sound of popular holiday music still shows the influence.  I hate to give credit to Phil Spector since he was exploitative, abusive, and ultimately a murderer, but the sound of his production on this album is quite good.
Bonus Sounds: Two years later, another classic holiday album was released as the soundtrack to the tv special A Charlie Brown Christmas.  I considered including the Vince Guaraldi Trio's seminal work on this list due to its jazzy interpretations  of holiday staples and the original tune "Christmas Time Is Here," performed both as an instrumental and with a children's chorus.
---
204
Artist: Tears For Fears
Title: Songs from the Big Chair
Year: 1985
Favorite Tracks:
Shout
Everybody Wants to Rule the World
I Believe
Head Over Heels
Listen
The First Time I Heard This Album …: Circa 1985.
Thoughts: The English synthpop duo Tear for Fears hit it big with this collection of big sounds and emotionally honest lyrics.  This album was in heavy rotation in my collection well into the early 90s.
Bonus Sounds: A Tears for Fears original became even more well known in this interpretation by Gary Jules of "Mad World," famously used in the soundtrack of Donnie Darko.
---
203
Artist: The Doors
Title:  The Doors 
Year: 1967
Favorite Tracks:
Break on Through (To the Other Side)
Soul Kitchen
Alabama Song (Whisky Bar)
Back Door Man
Take It As It Comes
The First Time I Heard This Album …: Sometime in 1988.  One of my first acquisitions of my Classic Rock Period.
Thoughts:  The Doors hit the ground running on this fantastic debut album.  Their sound is more bluesy (including a cover of Willie Dixon's "Back Door Man") and less ponderous than their later works.
Bonus Sounds: I listened to all The Doors studio albums way too many times in my youth before realizing that the band really had one great album and a decent greatest hits compilation from the rest of their career.  Here are my selections for that mythical "Best of" set (you'll notice it excludes some radio staples):
Love Me Two Times
Moonlight Drive
Five to One
Touch Me
Roadhouse Blues
Peace Frog
Love Her Madly
Been Down So Long
L.A. Woman
---
202
Artist: The Beatles
Title: The Beatles [White Album] 
Year:  1968
Favorite Tracks:
While My Guitar Gently Weeps
Happiness is a Warm Gun
I'm So Tired
Blackbird
Don't Pass Me By
Helter Skelter
Long, Long, Long
Revolution 9
The First Time I Heard This Album …: One of the first Beatles albums I acquired back in 1988 (along with the 1962-1966 compilation), partly because I mistook it for a best of compilation.  Boy, was I ever surprised!
Thoughts: The Beatles weirdest album, nicknamed "The White Album" for it's unadorned cover, is a sprawling collection of 30 tracks on two LPs. The Beatles play with musical genres such as reggae, country, proto-metal, music hall, and avant garde sound. And a lot of the tracks don't feature all four members of the bands as their splintering interests find them working in smaller groups or alone and with support from outside artists. Despite all this it is a wonderful, wild collection. I can't imagine what people in 1968 thought when they heard this. Yes, there is the stereotype that everyone was using psychedelic drugs while listening to the White Album but I'm sure there were plenty of "normies" who found listening to the new sounds of their beloved moptops trippy enough while sober.
Bonus Sounds: The Beatles made a lot of great albums, and we will see some coming up on this list (and probably could've added more), but here is a post I wrote about some great Beatles songs that you may not know.
---
201
Artist: Nine Inch Nails
Title: Pretty Hate Machine
Year:  1989
Favorite Tracks:
Pretty Hate Machine
Terrible Lie
Down In It
Sin
That's What I Get
The First Time I Heard This Album …: Definitely heard a lot of it in high school when it came out, but I don't think I listened to the whole thing until I was in college in 1991.
Thoughts: I always remember "Head Like a Hole" playing at a high school dance and losing myself dancing and thrashing about to it to the surprise of my friends, and myself. I'm kind of amazed that this album is from the 1980s because it still sounds "futuristic" to me.  Trent Reznor was a profit of sick beats and unguarded rage.
Bonus Sounds: Another strong contender for this list was Nine Inch Nail's other masterpiece, 1994's The Downward Spiral.