Author: David Von Drehle
Title: Triangle:The Fire That Changed America
Narrator: Barrett Whitener
Publication Info: New York : Atlantic Monthly Press, [2003]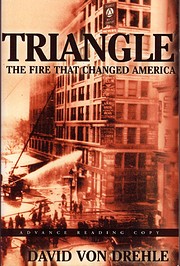 Summary/Review:
At closing time on Saturday, March 25, 1911, a fire started at the Triangle Shirtwaist Factory on the 8th, 9th, and 10th floors of the Asch Building in New York's Greenwich Village.  146 people – mostly young women and girls – died as result of the fire, many of them jumping to their deaths because locked doorways prevented their exit.  The fire proved pivotal in leading to legislation for factory safety and the growth of the International Ladies' Garment Workers' Union (ILGWU), a union that lives on today in UNITE HERE.
Von Drehle provides a thorough but concise history of the fire, with all the grim details, and the ensuing trial which failed to find the company owners guilty of manslaughter. There's also a lot of background before the fire.  This includes the history of the factory owners, themselves immigrant strivers who rose to wealth and prominence.  The stories of many of the garment workers are also included, most of them immigrants from Eastern Europe and Italy, who had survived pogroms in Poland and volcanic eruptions in Italy before seemingly finding stability in New York.  A massive strike lead by the ILGWU in 1909 is also covered in some detail.
If there's any flaw in this book it is that it doesn't quite live up to it's subtitle "The Fire That Changed America."  For the aftereffects of the fire, Von Drehle emphasizes the rise of progressive Tammany Hall politicians Alfred E. Smith and Robert F. Wagner, and how they brought about an urban liberalism that lead to the New Deal.  I wouldn't say this is a stretch but I think it's a more high-level approach to history than it would be to detail what women and immigrant communities did in response to the fire.  Nevertheless, I did find the book to be very interesting and informative.  The building that housed the Triangle Shirtwaist Factory still stands and I paid my respects to the workers killed in the fire on a visit to New York in 2007.
Recommended books:
Rating: ****