Author: Sarai Walker
Title: The Cherry Robbers
Narrator: January LaVoy
Publication Info :HarperAudio (2022)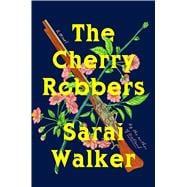 Summary/Review:
The Cherry Robbers is a gothic novel set largely in 1950s Connecticut about the six Chapel daughters whose family acquired great wealth producing firearms.  Their melancholy mother Belinda, deemed mentally ill by most, believes all the girls are cursed to die if they form romantic attachments to men.  The novel is narrated by Iris, the second youngest of the six children and the only survivor (not a spoiler, it's pretty much spelled out in the opening pages).
When I saw that the story was set in Bellflower Village near Greenwich, CT I thought the name was close enough to Bell Haven, CT and that this novel would fictionalize the Martha Moxley murder.  Fortunately this was not the case, although it does draw on the history of firearms manufacturers in Connecticut and characters draw influence from the real life figures Sarah Winchester and Georgia O'Keefe.  The better part of the novel depicts Iris' coming of age story and the extensive grief of seeing her sisters one-by-one.  The novel has feminist overtones and critiques of the weapons industry.  The framing story set in the present day details Iris, a successful but reclusive artists living under the nom-de-plume Sylvia Wren, dealing with a persistent journalist attempting to reveal her hidden past.
Rating: ***