Having listened to every album on the Rolling Stone list of 500 Greatest Albums of All Time, I'm making my own list.  This list will be only 250 albums, although I had to make some tough cuts.  The list includes a mix of works of musical genius with the pure nostalgia of some albums I've loved throughout my life.  As always, I'd love to hear your thoughts about these albums and what your favorite albums are. I will continue the countdown every other Wednesday throughout 2022.
110
Artist: Various
Title: Camelot: 1982 Original London Cast
Year: 1982
Favorite Tracks:
Camelot
How To Handle A Woman
If Ever I Would Leave You
What Do The Simple Folks Do?
The First Time I Heard This Album …: mid-80s, sort of
Thoughts: Technically, the album I want to put in this spot does not exist.  As a child I watched and loved the HBO presentation of Camelot starring Richard Harris, filmed on Broadway as part of its 1981-1982 revival. While the movie exists there doesn't seem to be a cast recording, so I go with this West End version which also stars Richard Harris but different actors in the other parts.
Bonus Sounds: Richard Harris' most famous vocal performance, of course, is on "MacArthur Park," one of the weirdest ballads ever composed.
---
109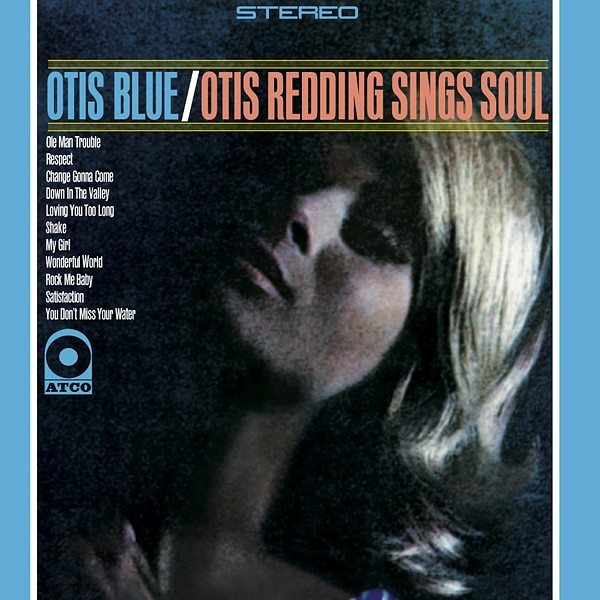 Artist: Otis Redding
Title: Otis Blue 
Year: 1966
Favorite Tracks:
Ole Man Trouble
Respect
A Change Is Gonna Come
I've Been Loving You Too Long (To Stop Now)
Shake
Rock Me Baby
(I Can't Get No) Satisfaction
You Don't Miss Your Water
The First Time I Heard This Album …: ca. 1987
Thoughts: I can't remember the first time I heard Otis Redding, but I know I began a lifelong obsession with Otis after watching Monterey Pop on television celebrating the the 20th-anniversary of the festival.  Like a lot of R&B artists of the time, Redding focused on singles but this album is a concerted effort to interpret the top soul songs of the era, including 3 songs by the recently deceased Sam Cooke.  There are three original songs, although even Redding would have to admit that Aretha Franklin took ownership of "Respect." On the flip side, Keith Richards would praise Redding's take on "Satisfaction" as being how he envisioned the song.
Bonus Sounds: If there's one Otis Redding song everyone should know, it's his posthumous hit "Dock of the Bay."  But really, you can't go wrong with any of Redding's recordings.  If you want to learn more about his life and artistry, read Dreams to Remember by Mark Ribowsky.
---
108
Artist: The Clash
Title: The Clash
Year: 1977
Favorite Tracks:
Remote Control
I'm So Bored With the U.S.A.
White Riot
Career Opportunities
Police & Thieves
The First Time I Heard This Album …: 1991
Thoughts: The debut album from The Clash is hands down one of the greatest statements of punk rock ever.
Bonus Sounds: There's one more very obvious selection from The Clash coming up in this list, but I also consider Sandinista!, Combat Rock, and Live At Shea Stadium to be among my favorite albums. Read my Music Discovery on The Clash for more of my thoughts.
---
107
Artist: Traffic
Title: John Barleycorn Must Die 
Year: 1970
Favorite Tracks:
Glad
Freedom Rider
Empty Pages
John Barleycorn
Every Mother's Son
The First Time I Heard This Album …: Late 80s
Thoughts:  A little bit jazz, a lit bit folk, a whole lot of fusion.  It's really a feast for the ears.  I remember the tape I got back in high school had all six songs on both sides.  In the streaming era, the album has gained two songs but they're not as good as the original 6.
Bonus Sounds: I never liked what I heard of Traffic's other releases.  Steve Winwood, of course, participated in another of my favorite albums with Blind Faith.  I remember really liking is solo song "Higher Love" when I was a kid, and listening to it now, it's still not so bad.
---
106
Artist:Pete Seeger
Title: We Shall Overcome: The Complete Carnegie Hall Concert, June 8, 1963 
Year:  1963
Favorite Tracks:
Banjo Medley: Cripple Creek/Old Joe Clark/Leather Britches
Mail Myself to You
What Did You Learn In School Today?
Little Boxes
Farewell
Keep Your Eyes on the Prize
Oh Freedom!
Sweet Potatoes
Oh, What a Beautiful City!
We Shall Overcome
Guantanamera
The First Time I Heard This Album …: mid-90s
Thoughts: A live concert recording of Pete Seeger at the height of his career.  As always he turned the spotlight off himself, dedicating an entire set to music of the Civil Rights Movement and another to the songs of new artists (specifically Bob Dylan, Malvina Reynolds, and Tom Paxton).  I also love the audience singalong aspect.
Bonus Sounds: There are so many Pete Seeger recordings to choose from, but a good starting point is his children's albums American Folk Songs for Children, Birds, Beasts, Bugs and Little Fishes, and Folk Songs for Young People.
---
105
Artist: Stereolab
Title: Cobra and Phases Group Play Voltage in the Milky Night
Year:1999
Favorite Tracks:
Fuses
Blips Drips and Strips
Italian Shoes Continuum
Infinity Girl
The Spiracles
Blue Milk
Strobo Acceleration
The First Time I Heard This Album …: Early 2000s
Thoughts: I was introduced to Stereolab by a co-worker in the early 2000s and associate listening to the their version of space-age bachelor pad music with the time I spent working in a windowless warehouse during a library renovation.  It's good music to keep one's sanity.
Bonus Sounds: There's another Stereolab album coming up on this list, but in the meantime you can read my Stereolab Music Discovery.
---
104
Artist: Various
Title: Free to Be … You and Me
Year: 1972
Favorite Tracks:
The New Seekers – "Free to Be … You and Me"
Rosey Grier – "It's Alright to Cry"
The Voices of East Harlem – "Sisters and Brothers"
Alan Alda & Marlo Thomas – "William's Doll"
Marlo Thomas – "Glad to Have a Friend Like You"
The First Time I Heard This Album …: Infancy?
Thoughts: I didn't have many records of children's music when I was a kid, but I did have this album that Marlo Thomas made with the Ms. Foundation. The songs and stories focus on ideas of gender equality, growing up, friendship, feeling emotions, and compassion, but done in a way that makes it fun and funny (or terrifying, in the case of "Girl Land" which creeped me out as a child).  Surprisingly, my father (who voted for Nixon) loved this album and was the one who bought it for me and my sister!  A lot of great celebrities participated in making the album including Alan Alda, Harry Belafonte, Mel Brooks, Diana Ross, Tom Smothers, Carol Channing, Diana Sands, and Rosey Grier.  A couple of years after the album came out they made it into a tv special, but I never saw that.
Bonus Sounds: When my own kids were young we listened to a lot of the locals superstar of the preschool set Wayne Potash.  We even saw him at Club Passim!
---
103
Artist: Dimitri From Paris
Title: Sacrebleu
Year: 1996
Favorite Tracks:
Sacre Francais
Reveries
Dirty Larry
Une Very Stylish Fille
Un Woman's Paradis
Le Rythme et le Cadence
Le Moogy Reggae
The First Time I Heard This Album …: around the turn of the century
Thoughts: DJ Dimitri From Paris' tribute to his adopted city is a collection of electronic beats with samples from lounge and bossa nova tunes and classic movies.  It's a very French vibe with a midcentury twist.
Bonus Sounds:
---
102
Artist: Carl Stalling
Title: The Carl Stalling Project: Music From Warner Bros. Cartoons, 1936–1958
Year: 1990
Favorite Tracks:
The Good Egg (1939) – A Vintage Merrie Melodie
There They Go Go Go (1956) – A Complete Road Runner
Anxiety Montage (1952-1955)
Porky In Wackyland (1938) / Dough For The Do Do (1949)
The First Time I Heard This Album …: 1990
Thoughts: Film composer Carl Stalling created over 600 tiny symphonies to score the Warner Bros. cartoon shorts from the 1930s to the 1950s.  His genius lay in drawing on his knowledge of classical music and the latest pop tunes and working them into his scores.  If you've ever watched a Looney Tunes/Merrie Melodies cartoon, you will know how essential the music score is to the comedy.  This album allows one to appreciate Stalling's work without the visuals and most of the dialogue. The album includes collections of Stalling's best musical cues tropes as well as full cartoon scores.
Bonus Sounds: If this album doesn't fulfill your needs for cartoon music, a sequel album was released in 1995: The Carl Stalling Project Volume 2: More Music From Warner Bros. Cartoons, 1939–1957.
---
101
Artist:Yo La Tengo
Title: And Then Nothing Turned Itself Out 
Year: 2000
Favorite Tracks:
Everyday
Let's Save Tony Orlando's House
Last Days of Disco
The First Time I Heard This Album …: Around 2000
Thoughts:
New Jersey indie rock trio Yo La Tengo took a turn for slower and more atmospheric.  Pitchfork even declared it one of the 30 Best Dream Pop Albums.  As slow as it gets, it's never boring and it's sonically rich.
Bonus Sounds: And Then Nothing Turned Itself Out came at the end of a streak of five albums that define Yo La Tengo's best work (including one album we'll see later on this list).  There output since 2000 hasn't been as good, with the exception of I Am Not Afraid of You and I Will Beat Your Ass (2006), although a friend of mine described that as sounding like a greatest hits album of the their 1990s work.