Author: Angela Davis
Title: Freedom Is a Constant Struggle: Ferguson, Palestine, and the Foundations of a Movement
Publication Info: Haymarket Books (2016)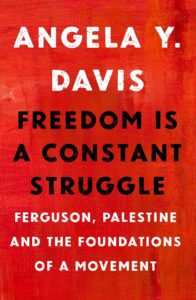 Summary/Review:
This books collects several interviews with long-time activists Angela Davis as well as some articles and speeches.  The downside to this collection is that she touches on some of the same issues in each of the pieces (as you would expect of someone delivering speeches to new audiences) but the format of this collection doesn't allow the reader to see Davis delve deep into any of the issues.
Davis reflects on the Civil Rights movement and feminist movies, her involvement in each, and their accomplishments.  She also compares it to the revival of activism in the Black Lives Matter movement that rose out of the protests in Ferguson, Missouri against the police killing of Michael Brown.  Davis urges the reader/listener to recognize the intersectionality of movements and that Americans need to broaden their scope to include global crises in their activism (with a particular emphasis on Palestine).
Davis always offers harsh truths but is never disparaging of efforts towards revolutionary change that are incomplete.  Instead she encourages the reader to keep trying and keep struggling.  I'm particular impressed by her reflections that Black Americans truly defined democracy since they are the ones who advocated for true freedom, which is more than civil rights.  I have had this book for some time and to my shame only got around to reading it now, but I'm glad I've read since it speaks to issues that are front and center in the current moment.
Favorite Passages:
Trying and trying again. Never stopping. That is a victory in itself. Everyone and everything tells you that "outside" you will not succeed, that it is too late, that we live in an epoch where a revolution cannot happen anymore. Radical changes are a thing of the past. You can be an outsider, but not outside the system, and you can have political beliefs, even radical ones, but they need to stay within the bounds of the permissible, inside that bubble that has been drawn for you by the elites.

---

It is essential to resist the depiction of history as the work of heroic individuals in order for people today to recognize their potential agency as a part of an ever-expanding community of struggle.

---

It's very interesting that during the commentary on Ferguson, someone pointed out that the purpose of the police is supposed to be to protect and serve. At least, that's their slogan. Soldiers are trained to shoot to kill. We saw the way in which that manifested itself in Ferguson.

---

The civil rights movement was very successful in what it achieved: the legal eradication of racism and the dismantling of the apparatus of segregation. This happened and we should not underestimate its importance. The problem is that it is often assumed that the eradication of the legal apparatus is equivalent to the abolition of racism. But racism persists in a framework that is far more expansive, far vaster than the legal framework. Economic racism continues to exist. Racism can be discovered at every level in every major institution—including the military, the health care system, and the police. It's not easy to eradicate racism that is so deeply entrenched in the structures of our society, and this is why it's important to develop an analysis that goes beyond an understanding of individual acts of racism and this is why we need demands that go beyond the prosecution of the individual perpetrators.

---

I fear that if we don't take seriously the ways in which racism is embedded in structures of institutions, if we assume that there must be an identifiable racist… The "bad apples" type of… …who is the perpetrator, then we won't ever succeed in eradicating racism.

---

But if one looks at the history of struggles against racism in the US, no change has ever happened simply because the president chose to move in a more progressive direction. Every change that has happened has come as a result of mass movements—from the era of slavery, the Civil War, and the involvement of Black people in the Civil War, which really determined the outcome.

---

Many people are under the impression that it was Abraham Lincoln who played the major role, and he did as a matter of fact help to accelerate the move toward abolition, but it was the decision on the part of slaves to emancipate themselves and to join the Union Army—both women and men—that was primarily responsible for the victory over slavery. It was the slaves themselves and of course the abolitionist movement that led to the dismantling of slavery. When one looks at the civil rights era, it was those mass movements—anchored by women, incidentally—that pushed the government to bring about change. I don't see why things would be any different today.

---

At this point, at this moment in the history of the US I don't think that there can be policing without racism. I don't think that the criminal justice system can operate without racism. Which is to say that if we want to imagine the possibility of a society without racism, it has to be a society without prisons. Without the kind of policing that we experience today. I think that different frameworks, perhaps restorative justice frameworks, need to be invoked in order to begin to imagine a society that is secure. I think that security is a main issue, but not the kind of security that is based on policing and incarceration. Perhaps transformative justice provides a framework for imagining a very different kind of security in the future.

---

Optimism is an absolute necessity, even if it's only optimism of the will, as Gramsci said, and pessimism of the intellect. What has kept me going has been the development of new modes of community. I don't know whether I would have survived had not movements survived, had not communities of resistance, communities of struggle. So whatever I'm doing I always feel myself directly connected to those communities and I think that this is an era where we have to encourage that sense of community particularly at a time when neoliberalism attempts to force people to think of themselves only in individual terms and not in collective terms. It is in collectivities that we find reservoirs of hope and optimism.

---

Deep understandings of racist violence arm us against deceptive solutions. When we are told that we simply need better police and better prisons, we counter with what we really need. We need to reimagine security, which will involve the abolition of policing and imprisonment as we know them. We will say demilitarize the police, disarm the police, abolish the institution of the police as we know it, and abolish imprisonment as the dominant mode of punishment. But we will have only just begun to tell the truth about violence in America.

---

As many times as I've spoken during Black History Month, I never tire of urging people to remember that it wasn't a single individual or two who created that movement, that, as a matter of fact, it was largely women within collective contexts, Black women, poor Black women who were maids, washerwomen, and cooks. These were the people who collectively refused to ride the bus.

---

But freedom is still more expansive than civil rights. And in the sixties there were some of us who insisted that it was not simply a question of acquiring the formal rights to fully participate in a society, but rather it was also about the forty acres and the mule that was dropped from the abolitionist agenda in the nineteenth century. It was about economic freedom. It was about substantive freedoms. It was about free education. It was about free health care. Affordable housing. These are issues that should have been on the abolitionist agenda in the nineteenth century, and here we are in the twenty-first century and we still can't say that we have affordable housing and health care, and education has thoroughly become a commodity. It has been so thoroughly commoditized that many people don't even know how to understand the very process of acquiring knowledge because it is subordinated to the future capacity to make money. So it was about free education and free health care and affordable housing. It was about ending the racist police occupation of Black communities. These were some of the demands raised by the Black Panther Party.

---

I tell you that in the United States we are at such a disadvantage because we do not know how to talk about the genocide inflicted on indigenous people. We do not know how to talk about slavery. Otherwise it would not have been assumed that simply because of the election of one Black man to the presidency we would leap forward into a postracial era.

---

For some time now I have been involved in efforts to abolish the death penalty and imprisonment as the main modes of punishment. I should say that it is not simply out of empathy with the victims of capital punishment and the victims of prison punishment, who are overwhelmingly people of color. It is because these modes of punishment don't work. These forms of punishment do not work when you consider that the majority of people who are in prison are there because society has failed them, because they've had no access to education or jobs or housing or health care. But let me say that criminalization and imprisonment could not solve other problems.

---

We will have to do something quite extraordinary: We will have to go to great lengths. We cannot go on as usual. We cannot pivot the center. We cannot be moderate. We will have to be willing to stand up and say no with our combined spirits, our collective intellects, and our many bodies.
Recommended books:
Rating: ***1/2