Author: Ray Bradbury
Title: Dandelion Wine
Narrator: Stephen Hoye
Publication Info: Tantor Media, Inc., 2010 [Originally published in 1957]
Other Books I've Read By the Same Author:
Summary/Review: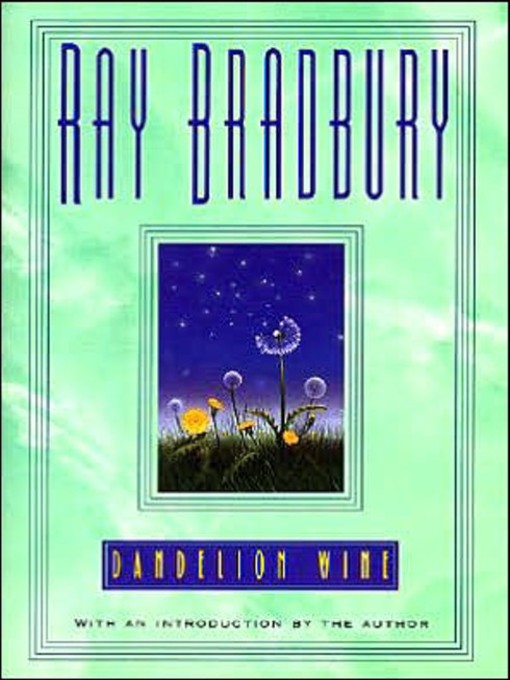 I read Dandelion Wine 30+ years ago and it swiftly became one of my all-time favorite books.  However, there's actually very little I remember of the book. My main memory is the scene where the main character's grandfather is indignant when someone tries to convince him to get a lawn where dandelions won't grow, and thus lose the main ingredient in the titular beverage (By the way, since this book is set in 1928, does making dandelion wine violate the Volstead Act?).
This book is a more personal work for Ray Bradbury, based on his childhood memories of summers in his hometown of Waukegan, Illinois (which he calls "Green Town"). Bradbury admits in the introduction that Waukegan is an unattractive, industrial city but for a child it was full of wonders, something the jibes with my own experience of growing up in a mundane Connecticut suburb.  The main characters of the book are 12-year-old Douglas, his younger brother Tom, and their friend Charlie.  But it's not a novel as much as it is an interconnected collection of short stories, several of which don't involve the children at all.
The book is not science fiction or horror as it typical of Bradbury's work, but contains aspects of these things.  Douglas finds magic in the feeling of being alive in the summer and an elderly neighbor is considered a "time machine" because of the stories he can tell.  While rooted in childhood, this book is very much an adult's perspective on ideas of mortality.  An elderly woman is convinced by children who believe she was never young to let go of her memories, while Douglas' great grandmother predicts the hour of her death.  There's also the horror of a serial killer known as The Lonely One stalking the town.
Bradbury's work is filled with nostalgia and poetic language, but it is not divorced from cold reality.  It embraces the magic of every day life while not shying away from the fact that one day everyone will die.  Through all the change, there are always things that will remain the same.
Rating: ****