Around the World for a Good Book selection for Malaysia
Author: Zen Cho
Title: Black Water Sister
Narrator: Catherine Ho
Publication Info: [Prince Frederick] : Recorded Books Incorporated, 2021.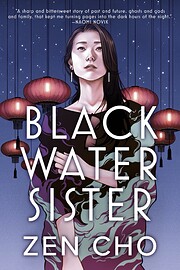 Summary/Review:
Jessamyn Teoh, a recent college graduate who grew up in the United States after her family emigrated there from Malaysia during her early childhood, faces an uncertain future.  She is moving back to Malaysia with her parents where she has to adjust to an unfamiliar culture, find work, and maintain a long-distance relationship with her girlfriend while hiding that she's lesbian from her parents.  Things grow more complicated when Jess begins hearing the voice of her deceased grandmother Ah Ma.  Soon Jess finds herself plunged into an adventure featuring a powerful real estate developer, gangsters, and gods.  To put things right, and to find justice for Ah Ma, Jess must become a medium for a vengeful goddess known as Black Water Sister.
Black Water Sister is a unique novel that blends elements of fantasy, mystery, and fish out of water story to tell a story of contemporary Malaysia.  Facets of Malaysian culture such as tradition, religion, and family are woven into the narrative.  Unfortunately for Jess (and others like her), homophobia is also a part of the Malaysian culture.  It's an interesting and well-written story that I enjoyed.
 
Recommended books:
Rating: ****