Author: Eva Jurczyk 
Title: The Department of Rare Books and Special Collections
Narrator: Hannah Cabell
Publication Info: Poisoned Pen Press (2022)
Summary/Review: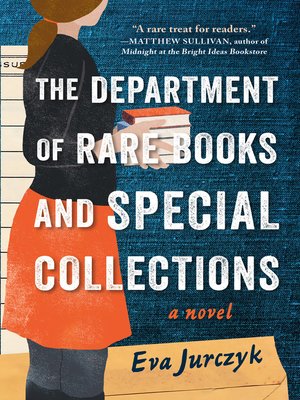 Liesl Weiss is no sooner named the interim director of the Department of Rare Books and Special Collections at a university in Toronto when things start to go wrong.  A rare Plantin Polyglot Bible is supposed to be the library's latest prize acquisition but it is missing and the only one who had seen it is the previous director who was incapacitated by a stroke.  Liesl comes to the realization that the Plantin was stolen and it could've been an inside job.  Was it Miriam, a librarian who suddenly stops showing up for work just before the book went missing?  Or could it be Francis Churchill, a rare books expert who Liesl is rumored to have had a fling with?
In addition to trying to solve the mystery, Liesl has to deal with people questioning her ability to do the job as a woman.  The university president certainly doesn't want to make the theft made public because it would frighten off donors.  Working in an academic library myself, the absolute most accurate part of the book is the university's need for reputation management and placating wealthy donors above everything else.  But it's also a great mystery with a very satisfying conclusion.
Recommended books:
Rating: ****