Having listened to every album on the Rolling Stone list of 500 Greatest Albums of All Time, I'm making my own list.  This list will be only 250 albums, although I had to make some tough cuts.  The list includes a mix of works of musical genius with the pure nostalgia of some albums I've loved throughout my life.  As always, I'd love to hear your thoughts about these albums and what your favorite albums are. I will continue the countdown every other Wednesday throughout 2022.
70
Artist: Various
Title: Hamilton: An American Musical (Original Broadway Cast Recording)
Year: 2015
Favorite Tracks:
Alexander Hamilton
My Shot
The Story of Tonight
Right Hand Man
Helpless
Wait For It
Guns & Ships
Dear Theodosia
Cabinet Battle #1
The Room Where It Happened
One Last Time
It's Quiet Uptown
The First Time I Heard This Album …: 2015
Thoughts: I never thought too highly of Alexander Hamilton the person (I'm a bit of an Aaron Burr buff) but I was transfixed by this musical that combines Broadway musical traditions with hip hop with American history.  I especially like how Hamilton's story is adapted to that of the immigrant striver relating the story to modern day Black and Latin American people who don't often get to see people who look like themselves in American history.
Bonus Sounds: Lin-Manuel Miranda's musical In The Heights was adapted into an excellent movie with a great soundtrack.
---
69
Artist: Billy Bragg & Wilco
Title: Mermaid Avenue
Year:  1998
Favorite Tracks:
Walt Whitman's Niece
California Stars
Way Over Yonder in the Minor Key
Ingrid Bergman
Christ for President
I Guess I Planted
The Unwelcome Guest
The First Time I Heard This Album …: Late 90s
Thoughts:  Billy Bragg is a folk/punk musicians and leftist activist from England whose music I like but I still need to listen to more of.  Wilco are a band from Chicago beloved by NPR hipsters whose music never interested me much.  But when they came together to put lyrics written by Woody Guthrie to music, it was magic.
Bonus Sounds:  The next step is to listen to actual recordings by Woody Guthrie.  Smithsonian Folkways has you covered.
Speaking of Folkways…
---
68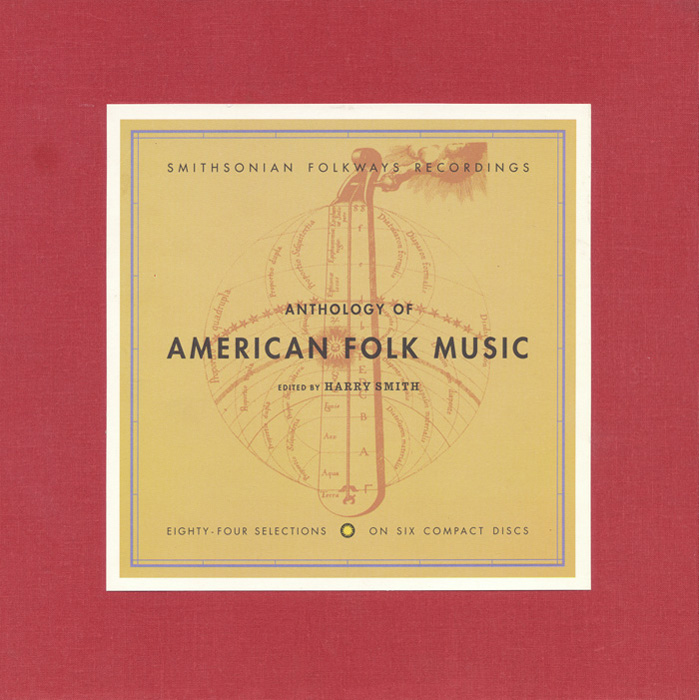 Artist: Various
Title: Anthology of American Folk Music
Year: 1952
Favorite Tracks:
"The House Carpenter" (1930) – Clarence Ashley
"The Butcher's Boy" (1928) – Buell Kazee
"King Kong Kitchie Kitchie Ki-Me-O" (1928) – Chubby Parker
"John Hardy Was a Desperate Little Man" (1930) – The Carter Family
"White House Blues" (1926) – Charlie Poole w/ North Carolina Ramblers
"Frankie" (1928) – Mississippi John Hurt
"When That Great Ship Went Down" (1927) – William and Versey Smith
Mississippi Boweavil Blues" (1929) – Charlie Patton (under the pseudonym "The Masked Marvel")
"Sail Away Lady" (1926) – Uncle Bunt Stephens
"Wake Up Jacob" (1929) – Prince Albert Hunt's Texas Ramblers
"Indian War Whoop" (1928) – Floyd Ming and his Pep-Steppers
"Saut Crapaud" (1929) – Columbus Fruge
"Moonshiner's Dance Part One" (1927) – Frank Cloutier and the Victoria Cafe Orchestra
"John the Revelator" (1930) – Blind Willie Johnson
"Bob Lee Junior Blues" (1927) – The Memphis Jug Band
"Poor Boy Blues" (1929) – Ramblin' Thomas
"See That My Grave Is Kept Clean" (1928) – Blind Lemon Jefferson
"Way Down the Old Plank Road" (1926) – Uncle Dave Macon
"Fishing Blues" (1928) Henry Thomas
"Black Jack David" — Carter Family
"How Can a Poor Man Stand Such Times and Live?" (1929) — Blind Alfred Reed
The First Time I Heard This Album …: When I first got an iPod, around 2005 or so, I listened to a history of Folkways Records which prompted me to get this collection
Thoughts:
Experimental filmmaker Harry Smith pulled together this anthology in 1952 with selections from his collection of old 78 rpm records and it ended up becoming a major influence of the Folk Revival of the 50s and 60s.  Smith's temerity in calling it "Anthology" instead of "An Anthology" and subsequent popularity skewed the real history of American folk music.  Nevertheless, as a compilation of recorded music enjoyed by ordinary Americans from 1927 to 1932, it is an excellent time capsule.  Selections include folk songs with roots in England, Scotland, and Ireland still enjoyed by rural Americans, Black American folk music (including blues and gospel), and old time music from a time when country and bluegrass are emerging.
The Internet Archive has the entire collection available to stream, including a fourth collection of folk songs chosen by Harry Smith that didn't get a release until 2000.
Bonus Sounds:
There's a 112 songs here, you want more?
---
67
Artist: Fugazi
Title: 13 Songs
Year: 1990
Favorite Tracks:
Waiting Room
Bulldog Front
Bad Mouth
Burning
Give Me The Cure
Burning Too
Promises
The First Time I Heard This Album …: 1991, because everyone in my Freshman dorm seemed to have this album
Thoughts: Speaking of leftist activism in music, the Washington, D.C. post-hardcore band took the DIY ethos to the limits making their shows as accessible as possible to all their fans.  Their debut album (actually a compilation of tracks from previously released EPs) was highly influential on the sound of the burgeoning alternative rock explosion.
Bonus Sounds:
Ian MacKaye of Fugazi maintains an archive of live performance recordings available for fans to download.
---
66
Artist: Cry Cry Cry
Title: Cry Cry Cry
Year: 1998
Favorite Tracks:
Fall On Me
Cold Missouri Waters
The Kid
Shades of Gray
By Way of Sorrow
The First Time I Heard This Album …: 1998
Thoughts: Richard Shindell, Lucy Kaplansky, and Dar Williams united to form a folk supergroup, recording this one album of cover songs.  They also had a very successful tour and I managed to see them twice on that tour including their end of tour performance at Sanders Theatre just after New Year's in 2000.
Bonus Sounds: Richard Shindell's album Courier appeared earlier in this list, but my favorite Dar Williams' albums are Mortal City (1996) and End of the  Summer (1997), and favorite Lucy Kaplansky album is Ten Year Night (1999).
Coincidentally, Cry Cry Cry was named after a song by …
---
65
Artist: Johnny Cash
Title: At Folsom Prison
Year: 1968
Favorite Tracks:
Folsom Prison Blues
I Still Miss Someone
25 Minutes To Go
The Long Black Veil
Flushed from the Bathroom of Your Heart
Jackson
Green, Green Grass of Home"
The First Time I Heard This Album …: early 2000s
Thoughts: I came to this late  due to a general disinterest in country music, not knowing that Johnny Cash is really good country.  Not only was Cash a good musician, he was a good person when it came to following Christ's teaching of visiting people in prison.  This album recorded in a prison contains songs about prison, by prisoners, and most importantly, to entertain prisoners. The enthusiastic response of the audience of imprisoned men complements the perfect performances of these songs by Cash along with June Carter, Carl Perkins, and the Tennessee Three. You can feel the disappointment when the prisoners are dismissed at the end.
Bonus Sounds: Johnny Cash had a late career resurgence with the American Recordings series which included interpretations of songs by decidedly non-country artists such as Depeche Mode's "Personal Jesus."
---
64
Artist: The Beat
Title: I Just Can't Stop It 
Year:1980
Favorite Tracks:
Mirror in the Bathroom
Twist & Crawl
The Tears of a Clown
Ranking Full Stop
Big Shot
The First Time I Heard This Album …: 1990s
Thoughts: Known as The English Beat in the USA, the band emerged from the  UK two-tone ska scene with a debut album that mixed ska with New Wave.  It was a new sound for a new decade and remains one of the best albums of the 80s.
Bonus Sounds:
---
63
Artist: Jenny Lewis and the Watson Twins
Title: Rabbit Fur Coat
Year: 2005
Favorite Tracks:
Rise Up With Fists!!
The Charging Sky
You Are What You Love
Rabbit Fur Coat
Handle With Care
Born Secular
The First Time I Heard This Album …: 2005
Thoughts: A debut album for Jenny Lewis of Rilo Kiley of sorts collaborating with Chandra and Leigh Watson, also making their debut.  The pop/alt-country sound with a gospel tinge contains impressive harmonies and thoughtful lyrics.
Bonus Sounds: Jenny Lewis has continued to release great music including 2014's "Just One of the Guys."
---
62
Artist: Janelle Monáe
Title:The ArchAndroid
Year: 2010
Favorite Tracks:
Locked Inside
Cold War
Tightrope
Come Alive (War of the Roses)
57821
The First Time I Heard This Album …: 2012
Thoughts:  Monáe's first full-length album continues her on-going science fiction dystopia about a messiasiac android. Musically, it's a tour de force jumping among genres from song to song and even within songs. Funk, soul, new wave, afrobeat, psychedelia, and even punk rock are in the mix.
Bonus Sounds: There's more Janelle Monáe to come in this list, but until then you can also read my Music Discovery on her work from 2016 or read her recently-released sci-fi story collection The Memory Librarian.
---
61
Artist: Adele
Title:21 
Year: 2011
Favorite Tracks:
Rolling in the Deep
Rumour Has It
Set Fire To The Rain
I'll Be Waiting
Someone Like You
The First Time I Heard This Album …: 2011
Thoughts: The first time I heard "Rolling in the Deep" it blew me away and I've been following Adele ever since (along with most of the rest of the world).  The weary wisdom of Adele's voice belies her youthful age at the time it was recorded.
Bonus Sounds: Adele is still pretty young even though she's now a veteran artists continuing to release great works like last year's 30.